The Unofficial Olympus Zuiko T-shirt!
Would you like an Olympus Zuiko T-shirt? Show the world what YOUR favourite brand is? Be a counter-weight in the midst of all this N*k*n/C*n*n/M*n*lt* brainwashing advertising? Stop being an Anonymous Zuikoholic and just say yes to OM? Be no longer afraid people will miss you at camera shows? You have come to the right place! It is free! It is cool! And you can download it here!
All you need is a quality printer, a plain white cotton T-shirt that doesn't have any prints, and a sheet of Transfolith (or simular brand). This is special paper for T-shirt printing, available in any computer store. Download the design by clicking on the picture below, unpack it, load it in a photo editor and print it at full width on a sheet of Transfolith. Iron it on the T-shirt, following the instructions of the Transfolith package. You will find that the downloaded file is mirrored! This is a necessity for T-shirt print designs that contain text. The unzipped file is a high resolution picture (2100x2700 pixels, true color). The zip file is 366K.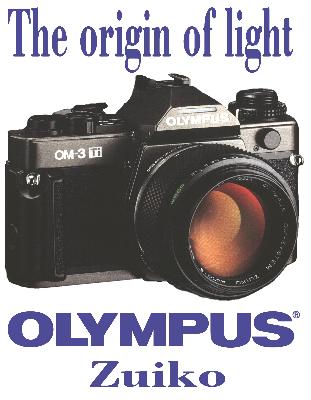 I created this T-shirt design on a typical Dutch rainy summer day in 1998. You are free to distribute it or modify it. Note that Transfolith does not have the same quality as photo glossy paper. You may need to experiment with printer driver settings or the contrast / brightness of the design in your photo editor to get best results. Do not un-mirror the design for Transfolith T-shirt printing, or else you'll be the only one who can read it... in the mirror!